This page describes C34 owner Ron Hill's Upgrades to Apache hull # 788.
Great Job Ron!
Please contribute yours!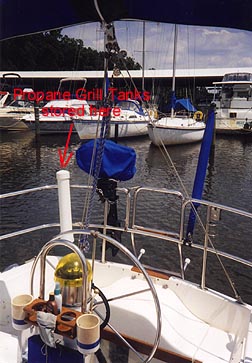 "Grill Propane storage in the tube"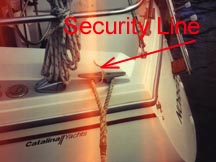 "Small line around loop, keeps the dock line from slipping off"
It is easier to loop a dock line over the cleat than it is to slide under and around.
For safety while using the loop method, I attach a small 1/8" or 3/16" line to the center of the dock line splice. This small line is slid between the strands or around the braid and tied in an overhand knot to keep it in place, (stays with the dock line).
Now when I dock the boat we flop the dock line over the cleats and when things have settled down, I go back and tie the 1/8" line around the cleat to guarantee that the loop will not bounce off the cleat as the boat rocks at the dock.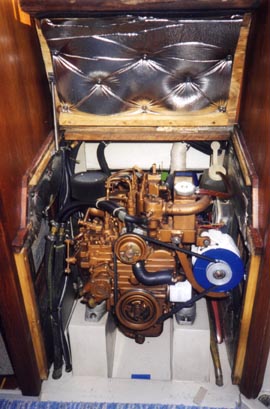 Notice the "Coolant Recovery System" A 1-qt. Rubbermaid jug.
Just behind the alternator is "the wiring harness upgrade" inside a "Rubbermaid flat box", fixed to the port side wall. The covered box keeps everything dry!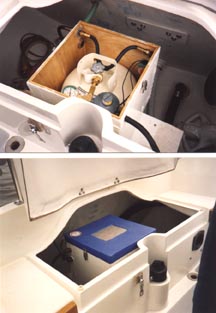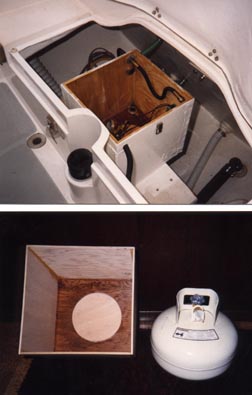 Propane Tank Locker, See write-up in projects page under "Propane Tank Storage"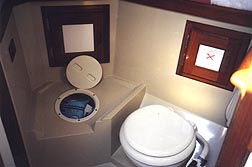 Added storage in the wasted space in the head.
Under seat and Behind head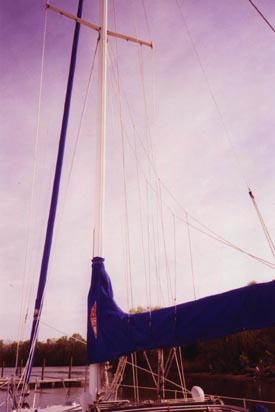 "Great lazy jack set up"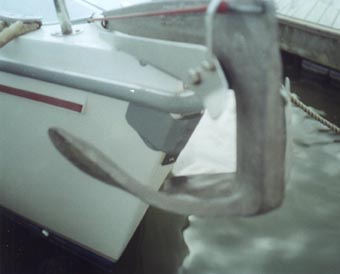 The anchor hangs too close to the gelcoat! I used a sticky-back "Tread Step" to protect the bow.
Don't mess with the bow of this boat!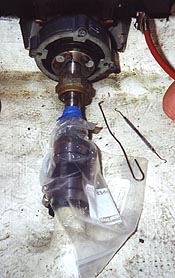 "This is how the stuffing box can be re-packed while the boat is in the water."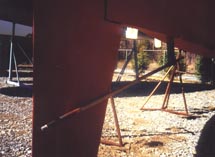 Ever think about changing the cutlass Bearing yourself?
"YES the shaft does pass by the rudder"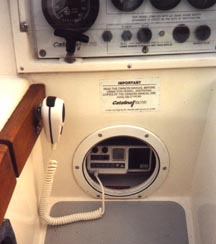 "Great spot for the radio"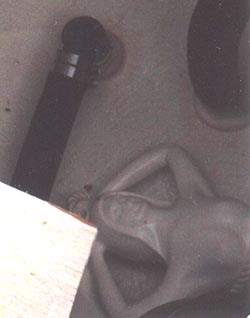 Ron! What the XXOO is that in the bilge?
Important: The opinions expressed here are those of the individual contributors to this page, and not those of the Catalina 34 National Association or Catalina Yachts, Inc. Additionally, this material has not been reviewed by Catalina Yachts, Inc. for technical accuracy. This page's maintainer cannot guarantee the accuracy of this information or the desirability of suggested modifications or upgrades. Please obtain assistance from a competent marine mechanic or boatyard prior to making any significant modifications to your vessel.