I noticed a black oil spot under my engine. You get that sinking feeling as you think about changing the oil pan gasket-which is no easy task! However, on closer examination, I noticed the "drip" was more in the center of the engine and all edges of the oil pan to engine joint were clean. After 16 years, an oil leak had developed in the lower oil removal hose that's connected to the drain fitting on the bottom of the oil pan.
I first looked up the company that made the oil changer kit, as I still had their tag. No luck as they changed addresses or were out of business. Then I contacted Westerbeke and found that they had the oil change kit complete #200373/390 in stock for $82.70 plus tax and shipping. This was an entire kit with a new 90-degree pan fitting, the hose and both end fittings. I wasn't too excited about removing the 90-degree oil pan drain nut/fitting because it had a good seal. It was the hose that was cracked and leaking.
The hose looked ribbed as I could see the reinforcing bumps. So it was time to "bite the bullet" and find out what kind of hose it really was. Westerbeke couldn't tell me and the hose was painted so I couldn't read any of its markings. I cut a piece off the top end of the hose to inspect it. To my surprise, it was nylon reinforced 3/8" fuel hose. The original hose had pressed NPT (National Pipe Thread) fittings at each end. I drained all of the oil and removed the hose. At Home Depot I found a couple of NPT 3/8" barbed on one end and threaded on the other that matched the original fittings.
The job was completed with two Home Depot brass fittings @ $1.95 each, a 24" piece of 3/8" fuel hose, and a couple of hose clamps. There were no leaks and I have a new oil drain hose for less than $6.00.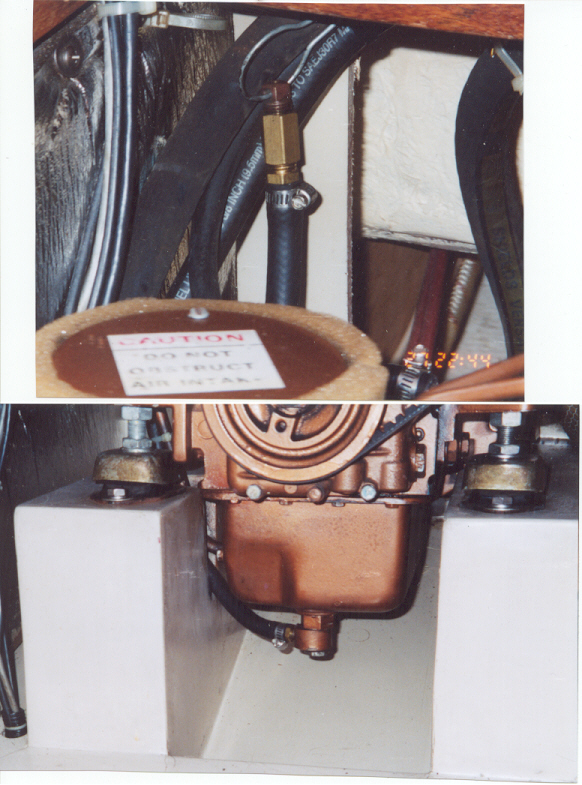 Ron Hill
Apache #788