Heavy-Duty Outboard Motor Mount
Jump to navigation
Jump to search
Heavy-duty stanchion reinforcement
By Larry Calfee, Top Priority #375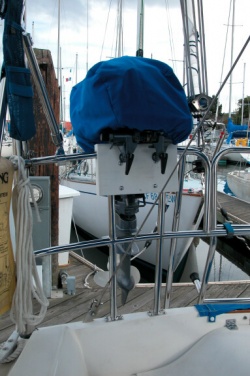 I purchased a new outboard motor and became concerned about trying to mount it on the stern rail. With the 94 LB unit attached there seemed to be a significant amount of fore and aft movement that might eventually cause metal fatigue and damage to the rail and motor. A local rail shop installed an additional stanchion about 8 inches from the original and a stern support rail which removed all perceptible movement from the rail. The stern support rail has the additional function as a hand rail when using the swim ladder. Motor mount plates were fabricated from two pieces of starboard plastic which were grooved to accept the rail that was sandwiched between them. The grooves were made with a router but required considerable adjusting to accommodate the curved top section of the stern rail.
---
An alternate solution
By Randy Thies, Captran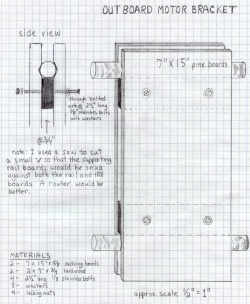 When I went looking for an outboard bracket I found most are designed for either smaller engines or made to fit a T fitting on a rail. The walk through transom of the newer boats are short on T rail fittings except on the seats, which I did not want to obstruct. I bought Voyager, hull number 1345 and walked the dock looking at designs. Had I been in familiar territory I may have been able to find a different material, more like that white plastic cutting board material. Instead I found a nearby Home Depot and was able to find inexpensive shelf like material made of pine. Here is a diagram to scale of the bracket with pictures, both before and after painting. Basically it creates a sandwich over the rails making for a sturdy and snug fit. It could easily accomodate a motor larger than the 8 hp motor I use. I don't recall the boat name that had the bracket that I copied. Who ever designed the original did a great job.