Diesel Cabin Heater - Portable
Jump to navigation
Jump to search
Diesel heaters (eg. Eberspacher, Espar or Webasto) have typically run about $2k +/- depending on how much the extras cost. Chinese knock-off copies are coming in from $100-$200 USD complete with graphic displays and remote control, along with a basic exhaust pipe/muffler setup.
I picked up an all-in-one 8 kilowatt unit (real world: 5k) complete with 5L tank and fuel pump. The entire unix is about the size of a medium toolbox and weights around 20lbs. Ebay has loads of them & plenty of parts. I went for well known online store, paid $120 (8/2020).
The setup runs on the deck midship, outside an opening port, set athwartship to pump in fresh/dry/warmed air while keeping the exhaust & noise outside.
While the self-contained heaters in these units seem very similar to the german made units the sellers often use lower quality accessories including stiff exhaust pipe and in my unit a fuel line that needed to be upgraded as these unit are very sensitive to proper fuel delivery. I wound up swapping out the 4mm ID flexible fuel hose as it caused the unit to burn with quite a bit of soot. With a proper 2mm OD (4mm OD) hard nylon fuel line - joined with small sections of rubber fuel line - and a small fuel filter, the unit burned cleanly w/o soot or any odor. (Why so critical? See YT expert John McK: https://www.youtube.com/watch?v=jCZhjGyR3bo)
It fits easily into the cockpit locker and in use on medium to low I should be able to get a few nights from the 5L tank.
I also added a 12 foot 14AWG extension coord w/ a cigarette lighter plug for power. The unit uses around 9 amps on startup/shutdown but only for maybe a minute or two and then backs off to < 1 amp on low, maybe 2 amps on max.
While there are many controller options out there the unit I purchased came with a color remote that displays the battery voltage, altitude, ambient temperature measured in the receiving unit which looks like a black knob mounted on the front. I changed out the double sided tape on the back receiver with velcro so that it can drop it into the cabin along side the vent duct as there's an extra foot or so of cable attached to it. While the unit will track cabin temperature the remote also lets you manually control the fuel pump rate from 1.4hz to 5.5hz (each stroke of the pump delivers approx 0.00002 liters using 0.1-0.4 L/hr).
All In One Unit
Self contained, just add diesel and 12 volts: Dimension in inches - 10W x 15L x 12H

Original 4mm green fuel line required upgrading to 2mm nylon - key to a clean burn.


I had some trouble with the original glow plug but after replacing with a new $15 one from ebay it's been fine. For the price it's easy to handle a few bumps. The computer controller on the unit has a range of error codes to help diagnose issues & and protect from over heating or other safety considerations.
With the new fuel hose it burns impressively clean once it's up to temperature, no smell of burnt diesel at all and little to no soot build up in the exhaust pipe. On that note I'm told that some people after running all night on low will run the unit on high for 5-10 minutes to clean/burn out any soot that might have built up.
While the pipe does get very to the touch ... do no touch! ;) ... the heat at 1" away would lightly warm any surface.
You can also buy these units ready to install onboard but I would definitely order a proper exhaust and a well sealed muffler and be prepared to spend another $100-$200 for thru hull fitting (ebay $60) and marine grade exhaust and ducting. Imagining how nice it could be extending the sailing season with warm air pouring out of the cabin underway - it sure has been nice with my engine driven heater while motoring on those cold/foggy mornings.
Onboard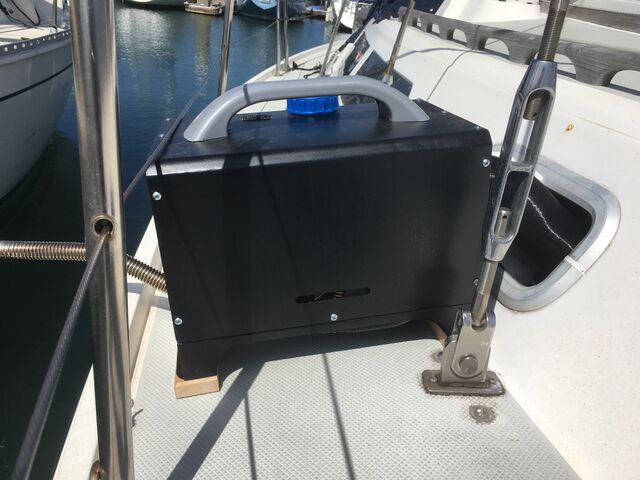 It fits easily & securely on the side deck. No muffler needed as the only noise in the cabin comes from the heated air being blown in and a faint clicking of the fuel pump.
Easy to step over going forward/aft. Conditions moderate permitting this could also be used underway. With a bit of lashing it could also be mounted on the cabin top reducing the chance of spray hitting the unit.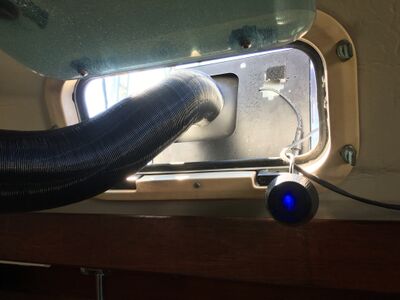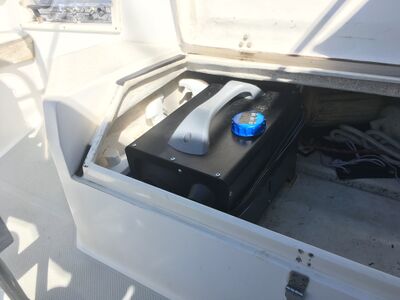 I plan to shorten the duct and perhaps add a diffuser/vent. I may also create a small hatch insert w/ hole for duct to enclose area, remove drafts but not required. The blue light on the round knob looking device is from the remote receiver which also contains the sensor for the thermostat.
Onboard testing revealed how much heat the unit puts out (and fresh air) and imagine the lowest setting would keep the boat very comfortable overnight. As noted at the lowest setting the 5L integrated fuel tank should last a few nights or up to 50hrs of use. Easy store in the cockpit locker. Without added feet or removing the carrying handle it would easily store long term further back in the locker
Final words - for now: For the price you can't go wrong though the units require a little setting up, especially if the unit you get doesn't come with hard fuel line as that's pretty much required. I added a wooden base at each end to protect the deck and give more clearance for the exhaust underneath. I'll add more data/info as I use it more. Fall is around the corner... order yours today & keep on sailing!