Moonlight -- and terror -- on Fleet's Bay (Bryan Pfaffenberger) How one C34 cap'n learned that it's a very good idea to check the work of new, untrained crew.

One of the joys of sailing lies in the expansion of one's emotional range, much muted by the comfort and domesticity of suburban life. In the space of a few hours -- perhaps a few minutes -- you can go from exultation to sheer terror (and back). I do prefer the exultation, frankly, but there's something to learn from terror, as I discovered in a June voyage aboard Juliana. An old buddy came down for a visit and sail, and the two of us set out from Stingray Harbor marina, in Deltaville, VA, for one of the neatest anchorages around, Grog Island. Situated at the mouth of Dymer Creek in Fleet's Bay, a few miles from Deltaville, Grog Island features a sandy beach which is perfect for summer-night barbecues and general revelry.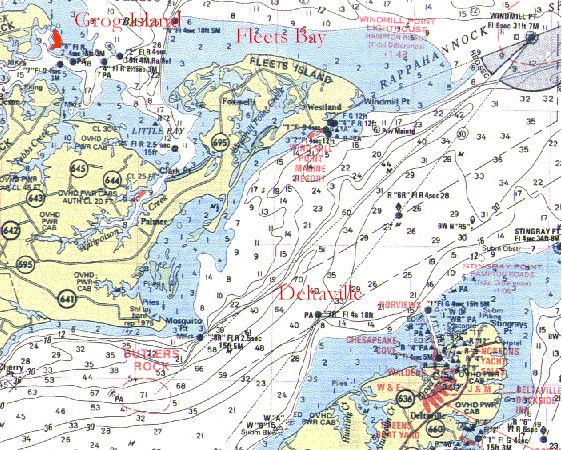 Because the anchorage is so popular, I was in something of a rush to get there. We arrived early to find a number of boats already anchored, and took a snooze; upon awakening, we found that there were even fewer boats anchored. The reason? A steady SW wind had set up, and that's Grog Island's Achilles Heel, as an anchorage -- no SW protection.. I noticed with some concern that the Commodore of a local yacht club had prudently weighed anchor and moved to a cove across the river... but after checking the NOAA forecast, which called for light winds by evening, I decided not to move, although this made me somewhat nervous; I greatly admire the Commodore's seamanship, and what's worse, he always seems to be right there -- smirking -- when I make some kind of stupid mistake.
The forecast was wrong, naturally; evidently, the Commodore has some kind of connection to a Higher Authority than NOAA, or some sort of weather wisdom that the rest of us lack. The winds not only kept up, but grew stronger, with a good, steady 25 kts clip. But our CQR held firm, and a gorgeous full moon rose. In the background, a sad drama played itself out; Grog Island's anchorage is notoriously difficult to get into, and there was a boat aground on one of the two shoals that crowd the anchorage's very narrow entrance. Lacking a dinghy, there wasn't much we could do; finally, a tow boat arrived, and we thought about what it would be like to have your weekend wind up that way. But we talked late into the night, lounging on the bow and watching that huge moon cross the astoundingly beautiful marine wilderness of the southern Chesapeake Bay.
The next morning, we were still hooked firm, the wind still blew, and the Commodore was nowhere in sight. My buddy helped me weigh anchor, but what he didn't tell me was that the windlass didn't deal with the rope/chain splice, and in consequence he wound the 20' chain around the forward cleats, rather loosely. And I didn't notice. I was in too much of a rush to get out there and sail.
Moving out of Dymer Creek into Fleet's Bay, we encountered exhilarating sailing conditions -- still a steady 25 kts wind. We flew toward Windmill Point at a steady 7 kts on a hell of a ripping close reach.. Coming out of the lee of Fleet's Island, though, we discovered what 25 kts of wind will do when permitted to charge across the Bay all night: chop, a good solid 6 feet of chop. Juliana slowed, working harder. We had to get through a couple of miles of the chop in order to round Windmill Point Light and make our way back to Deltaville. I kept the sails up, but started the diesel to help Juliana plow through the waves. That's where the exultation came in -- it's truly a thrill to see that big hull part the waves, sending spray high into the air. She took the conditions in stride and we were making way toward the lighthouse in what seemed to be good order. These were conditions that, were I in a smaller or less seaworthy boat, would have scared the daylights out of me.
But then I did get the daylights scared out of me. After a particularly dramatic encounter with what may have been an eight-footer, the anchor chain worked loose, and the CQR went down -- with 20 feet of chain -- in 10 feet of water. Instantly, I had visions of the anchor catching and plowing Juliana's bow under the chop... waves pouring over her bow, and the boat going down, awash. My heart was pounding so hard I thought it would explode. I slammed the transmission into reverse, opened the throttle, and luffed the sails. Juliana stopped on a dime. We pulled in the anchor, which (thankfully) had apparently not set, and there we sat, pitching in the surf. I turned to my friend and was about to start yelling like hell, when a little voice said, "Cap'n, if you're looking for somebody to blame for this, have you thought about taking a look in the mirror?" It was my responsibility, with new crew of unknown ability, to check his work -- and I hadn't done it. I smiled and said, "That's taken care of now -- let's go sailing!"