(Note, click on any picture for enlarged view.)
Many MK II owners have wanted to replace the ProMariner Flyback charger with the Statpower True Charge, but feel it won't fit in the original location under the galley sink in their boats, below the waste basket shelf. But with some very slight modification, it will fit. This picture shows the finished installation.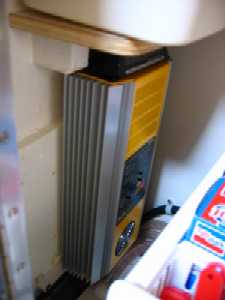 The 2 x 2 factory installed wood that holds the waste basket shelf in place needs to be notched for the upper mounting holes on the charger. Also, the notch is required to position the charger closer to the wall. By notching the wood, it still allows ample room to mount the shelf for the waste basket. When measuring how much to cut out of the notch, leave enough room, about 3/4" so you can have a mounting location for the center screws that mount the shelf. On the right side of the charger is the AC wire input. That section of the 2 x 2 board needs to be slightly angled as the pictures show.
Another view of the top end of the charger mounted onto the notched wood, with the waste basket shelf installed.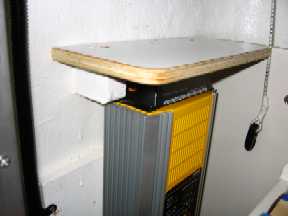 To supply a structure for the lower mounting holes on the charger, using epoxy I put a board just below the wood that was holding the ProMariner (which is not used for the new installation, it's too small). The depth is the same as the notch cut out at the top to keep the charger straight. If you use 3/4" plywood, then the upper 2 x 2 board should still have 3/4" material left after you've cut out the notch. There is plenty of room below the charger and is quite a distance away from the Ice Box drain petcock and nearby hoses.
Here is the top view of the waste basket shelf. On the two ends, the same screw hole locations are used (since the notch is 'U' shaped, the two ends are the original depth). The center screw holes are moved back, using the remaining 3/4" of 2 x 2 board. The shelf is just as sturdy.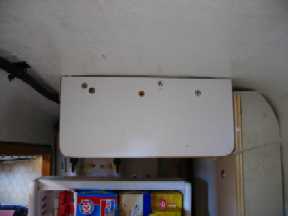 Roc Palaia
Sea Life #1477